Tiktok Influencer Dr. Letitia Wright has created the first Peer to Peer TiktTok Awards, Called the Wright Place Awards. She will be awarding via Tiktok Video over the next ten days to other Tiktok creators who she finds interesting. "The Wright Place Tiktok Awards are purely subjective. I am just having fun and giving them out to people to say that I like their work." Says Dr. Wright. "There was no application or nomination process, and this is just pure fun."
Tiktok has been riddled with white creators who take ideas from smaller African American accounts, copy them, and get millions of views from the same materials. When attention is brought to this, some of the creators who copied others' work without credit have threatened to sue the smaller creative. Dr. Wright says she fully experts white creators with millions of followers to do this same kind of type of award. "I think it's a fun way to interact with others, and being first on Tiktok does not mean you will get the most views or money from your idea. It's very often the other way around. I know I did it first, so this is what matters."
Tiktok has grown with more people aged 35-50 joining the platform daily. With 689 million active users worldwide, 21.7% of their audience is 30-39. 20% of Tiktok is 40-49 age group. Dr. Wright feels she has a great target market on Tiktok. "My Tribe is a great group of adults. I love encouraging them, and I think these awards are a way to do that." The first award goes to her "Tribe."
"I call my Tiktok Friends and followers my Tribe. They are interactive, interesting, smart, and fun." I enjoy lives with them and the feedback they give. The first award goes to my Tribe for just being them. I will keep one award on my desk that represents each one of them. I won't be mailing everyone an award." says Dr. Letitia Wright. "I will mail out the awards to anyone else that I give one to, if they want it, and allow me to send it to them. I won't force it on anyone!" Dr. Letitia Wright is @Thecrowdfundingexpert on Tiktok.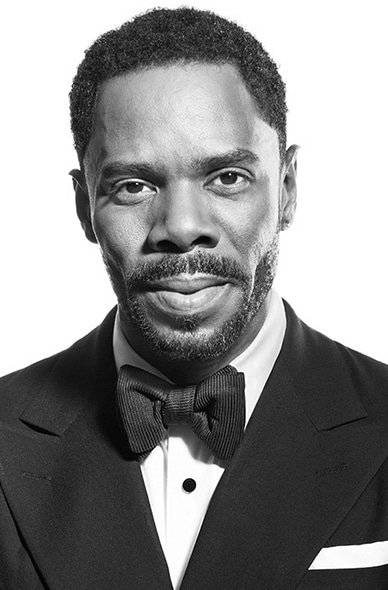 By Coleman Domingo
I create from a burning question that lives in my heart. Doesn't matter the media. It has to be there as I have always used my work to shine a light on our humanity. In creating our musical Light's Out: Nat King Cole, my comrade Patricia McGregor and I were delving deep into the subconscious of the legendary Nat King Cole. But ultimately we were uncovering our own personal truths as artists living in this world today. Black Artists. The frustrations that we hold deep in our souls and we – as Nat believed – were required to act with grace. Nat King Cole believed that grace was his most powerful weapon. I believed that too. I still do, to a point. But if anyone did deeper digging on Nat King Cole, they would find in an essay in Ebony Magazine in 1958, where, while discussing the demise of his television program The Nat King Cole Show, he famously stated that "Madison Avenue is Afraid of the Dark," one will see that there was a quiet rage and his greatest weapon would be his words.
Patricia brought forward to one of our writing sessions a piece of writing that she knew would become a crescendo in our musical. It was a poem that she wrote on a flight back home. It was a dark expression of 'Twas the Night Before Christmas. It floored me. It gutted me. It was her response to the death of black men and women across this nation. It was her response as a mother and her fear for her brown son. That was part of our intention to hold the mirror up to America in deconstructing an American Icon, that let you know that, yes, this rage lived even in the heart of Nat King Cole because of injustice, and that fury is justified. Justified by the origins of this country that has always sought to exploit black and brown people.
None of this is a surprise to me. It constantly feels like it is a surprise to my lighter comrades. They now know with the force of a hurricane that it is as plain as day. It has always been in plain sight and NO ONE IS ALLOWED TO STAY SILENT. It affects all of our humanity. I am furious, I am sad, I am awestruck. I awoke with tears in my eyes for three days, my soul aches. I am holding everyone who is trying to stay silent in this fight accountable. There is a line in our musical that became a refrain but it is even more important to me now. One of my co-creators sent it to me this morning and the words have never rang more true: "There is no time for easy anymore."
As I sit here, I listen to a news account saying that an act from 1807 is being invoked. Military force on our own country. My eyes well as I write this, as I understood that the Insurrection Act was to suppress civil disorder from the insurrection of slaves. Slaves. Our President of the United States just reached back to 1807. I guess that is the America that he has so lovingly dreamed of. Back when we were great.
It isn't easy to live in this brown body. I am talking to all my friends and colleagues to say, yes, this is a problem and it has always been here. I have never had the privilege to think otherwise. This world has repeatedly shown me. You might think that when one is a public person that it cancels out the fear. My black friends know better. Everyone is overdue to stand up for what is right. Use your voices to say loudly that Black Lives Matter. No one who loves me can sit this one out. The price will be heavy for our future if we do. To my casts, crews, producers, production companies, et al…you can't look away anymore. I won't let you.
Being black IS political. It is not helpful to hear from any one person that they don't see race. That blind belief highlights the fact that you never needed to be aware. It denies the very struggle for equality. Open your eyes and see race. See it every single time. I believe in every way that Amy Cooper truly believed that she wasn't racist. But in that moment when she was being challenged, she knew the system that she lived in, the privilege that she had to weaponize her white womanhood to the possible harm or death of that brown man. Our society and upbringing has left us scarred and fucked up by our forefathers who viewed brown bodies as replaceable machinery.
I am coming at you with as much love and grace that I can muster, but the fires that are burning in the streets are the fires that have been burning in the hearts of all of your fellow citizens who have demanded to be treated fairly by our system for centuries. This is 2020 and the time is now. Stand with all of us. Taking a knee didn't work. It is time to stand.
The death of George Floyd and the tale of Amy Cooper have ignited the flames that are burning the very foundation of our America. It's always been here, we just have cell phones to capture these injustices. And, unlike all the proxy wars in which we have engaged as a nation throughout history, we can not ignore this, for this war is in our home.
It is not the time to disassociate and think that it is different for you, you can't understand why it's happening. Do not compartmentalize the pain and call it their struggle. It is our struggle. There is no time for easy anymore.
This is an idea inspired by Inspired by Derek Sivers.
If you need a quick update on what I am doing now. Updated Feb 1, 2021
February 2021
I am on Tiktok having a ball!  @thecrowdfundingexpert The tribe here is fantastic
I am also on Clubhouse- Dr. Wright
I am busy working with clients who are FOR PROFITS
I am coaching people on how to start and build a funded business so they can grow easily and quickly.
I am still  a National Board member for STand up for Kids
I have started my own ROKU channel- called The Wright Place TV Channel
I was featured in Vision Made Magazine
January 2020…
I run The Wright Place TV Show, The Get Crowdfunded Now Podcast, My Crowdfunding Company and Youth Entrepreneur Incubator with  Standup for Kids.Org

I am currently raising money for the Entrepreneur Incubator at www.crowdfundednow.com  $25!

 I am booking paid speaking events for 2020

logging in some serious "in front of the fireplace" time, this has not changed since 2015!

Launching The Vault- a full day for Future Founders with a focus on Financing and Access to Capital, Alternative funding and meeting investors.

 My  health is still a priority, so if I turn you down for something, you know why.

Prepping the new season of Wright Place TV for Upliftv channel.
June 2020
Wow… so…much….has….happened, I usually remove what was before, but I feel like I need to keep it up so I can laugh about how things went LEFT in 2020.
I run The Wright Place TV Show, The Get Crowdfunded Now Podcast, My Crowdfunding Company and Youth Entrepreneur Incubator with  Standup for Kids.Org

Update- I am working to make the YEI for Stand up a virtual online class for nation wide use.
I am currently raising money for the Entrepreneur Incubator at www.crowdfundednow.com $25!  Update: I am still doing this, I am at $1,500 and you can still help!

Prepping to launch Wright Place TV Channel- Diverse business television https://watch.wrightplacetv.com

My  health is still a priority, so if I turn you down for something, you know why
Feel free to comment on what you are doing too!