Kim Coles talks about how to have what you want and sees the winner of her seat at the last high tea!

The Leap: How 3 simple changes can propel your career from Good to Great


Author: Rick Smith

This book starts with the author?s quest to understand how in 18 months he had gone from completely unremarkable to writing a best seller, founding a new company that he eventually sold for more money than he ever dreamed of. He wanted to find people who had achieved extraordinary success without the talents and drive that might have marked them as special from an early age. The book was meant to be a ?Good to Great? manual for individuals. I have read Good to Great, so…we?ll see.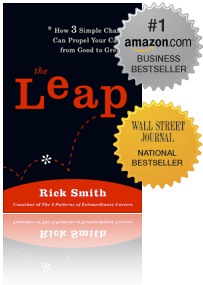 Smith shares how in 2003, his co-written book, The 5 Patterns of Extraordinary Careers took off. The book was very successful and after 3 months of touring his company let him go. He felt like his career had crashed and burned. He was looking for a new job and going to networking meetings. After a while he realized the networking meetings had plenty of people but hardly ever did you see top ranking executives from any companies. He created his own and named it w50. This was almost instant success also. He wanted to learn how this had happened.


Smith has also added lots of stories of how other people did it. This can give you some good ideas and perhaps insight on what creates success. He has a create take on memes however, makes no point of what the reader should do with a meme. Should they get one, make up one, use one? I like the book; I am always interested in how other people go to their success.
This book is an L.A. 7