In light of everything going on with the Black Live Matter Movement around the world, the California State Assembly voted to pass ACA 5. The bill authored by Assemblymember Dr. Shirley Weber (D-San Diego), chair of the California Legislative Black Caucus, sponsored the bill. This could allow Californians to vote on Affirmative action in the November 2020 general election. I say COULD

The ballot measure that could overturn Proposition 209 now moves to the state Senate for consideration. Proposition 209 is a California ballot proposition which, upon approval in November 1996, amended the state constitution to prohibit state governmental institutions from considering race, sex, or ethnicity, specifically in the areas of public employment, public contracting, and public education.

"Today California took an important step toward real change by passing ACA 5. A new generation of Californians is rising," said Chris Lodgson of American Descendants of Slaves (ADOS) Sacramento."One that values the lives and rights of Black American descendants of Slavery."
Let's use this momentum to get the job done in November," Lodgson went on. "And let's make sure Black Americans in California benefit significantly."
California voters approved Prop 209 in 1996, a ballot measure that outlawed the consideration of race in contracting, college admissions, employment and state data reporting in California.
And of course, I'm always thankful for Chris Holden my old classmate for voting yes!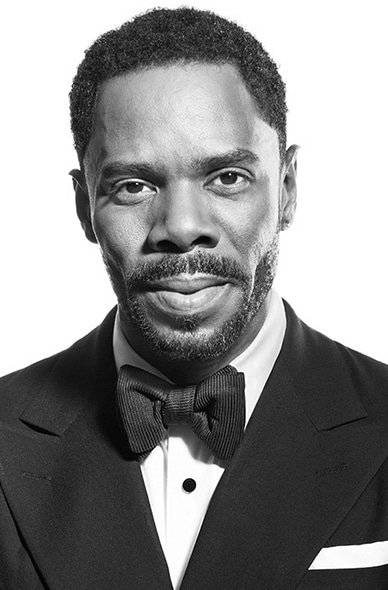 By Coleman Domingo
I create from a burning question that lives in my heart. Doesn't matter the media. It has to be there as I have always used my work to shine a light on our humanity. In creating our musical Light's Out: Nat King Cole, my comrade Patricia McGregor and I were delving deep into the subconscious of the legendary Nat King Cole. But ultimately we were uncovering our own personal truths as artists living in this world today. Black Artists. The frustrations that we hold deep in our souls and we – as Nat believed – were required to act with grace. Nat King Cole believed that grace was his most powerful weapon. I believed that too. I still do, to a point. But if anyone did deeper digging on Nat King Cole, they would find in an essay in Ebony Magazine in 1958, where, while discussing the demise of his television program The Nat King Cole Show, he famously stated that "Madison Avenue is Afraid of the Dark," one will see that there was a quiet rage and his greatest weapon would be his words.
Patricia brought forward to one of our writing sessions a piece of writing that she knew would become a crescendo in our musical. It was a poem that she wrote on a flight back home. It was a dark expression of 'Twas the Night Before Christmas. It floored me. It gutted me. It was her response to the death of black men and women across this nation. It was her response as a mother and her fear for her brown son. That was part of our intention to hold the mirror up to America in deconstructing an American Icon, that let you know that, yes, this rage lived even in the heart of Nat King Cole because of injustice, and that fury is justified. Justified by the origins of this country that has always sought to exploit black and brown people.
None of this is a surprise to me. It constantly feels like it is a surprise to my lighter comrades. They now know with the force of a hurricane that it is as plain as day. It has always been in plain sight and NO ONE IS ALLOWED TO STAY SILENT. It affects all of our humanity. I am furious, I am sad, I am awestruck. I awoke with tears in my eyes for three days, my soul aches. I am holding everyone who is trying to stay silent in this fight accountable. There is a line in our musical that became a refrain but it is even more important to me now. One of my co-creators sent it to me this morning and the words have never rang more true: "There is no time for easy anymore."
As I sit here, I listen to a news account saying that an act from 1807 is being invoked. Military force on our own country. My eyes well as I write this, as I understood that the Insurrection Act was to suppress civil disorder from the insurrection of slaves. Slaves. Our President of the United States just reached back to 1807. I guess that is the America that he has so lovingly dreamed of. Back when we were great.
It isn't easy to live in this brown body. I am talking to all my friends and colleagues to say, yes, this is a problem and it has always been here. I have never had the privilege to think otherwise. This world has repeatedly shown me. You might think that when one is a public person that it cancels out the fear. My black friends know better. Everyone is overdue to stand up for what is right. Use your voices to say loudly that Black Lives Matter. No one who loves me can sit this one out. The price will be heavy for our future if we do. To my casts, crews, producers, production companies, et al…you can't look away anymore. I won't let you.
Being black IS political. It is not helpful to hear from any one person that they don't see race. That blind belief highlights the fact that you never needed to be aware. It denies the very struggle for equality. Open your eyes and see race. See it every single time. I believe in every way that Amy Cooper truly believed that she wasn't racist. But in that moment when she was being challenged, she knew the system that she lived in, the privilege that she had to weaponize her white womanhood to the possible harm or death of that brown man. Our society and upbringing has left us scarred and fucked up by our forefathers who viewed brown bodies as replaceable machinery.
I am coming at you with as much love and grace that I can muster, but the fires that are burning in the streets are the fires that have been burning in the hearts of all of your fellow citizens who have demanded to be treated fairly by our system for centuries. This is 2020 and the time is now. Stand with all of us. Taking a knee didn't work. It is time to stand.
The death of George Floyd and the tale of Amy Cooper have ignited the flames that are burning the very foundation of our America. It's always been here, we just have cell phones to capture these injustices. And, unlike all the proxy wars in which we have engaged as a nation throughout history, we can not ignore this, for this war is in our home.
It is not the time to disassociate and think that it is different for you, you can't understand why it's happening. Do not compartmentalize the pain and call it their struggle. It is our struggle. There is no time for easy anymore.
Hire the best candidates
Of course, hire the best candidates based on their skills, their mindset matching your company's stage of development, and the right fit for the culture of your company. There are hundreds of guides to assess an employee's skill set, however matching their mindset and your stage of development requires more effort. At the beginning you need hustlers, yet in the middle or "business perfection" level, you need executioners to bring home the bacon. Taking time to hire the smart people who fit in your culture enables an organic cultural development with buy-in from everybody.
Create a set of rules to live by
In order to hire the best candidates, you need a context to frame the term "best" within. The most engaging process involves collectively creating a set of rules to live by. Collectively requires more than the upper management level, it includes everyone. You can start with five or six generic values and let everyone re-express or expand each one until you have a clear set of rules to live by. This can become the foundation of your culture and can be used to discuss the performance of individuals and the entire business. Essentially it becomes the "happy trail," the fundamentals of keeping everybody happy; it will evolve in time.
Onboard your new hires in style
On boarding new hires helps them understand what the company is about and helps the company understand who they as individuals are. You will have to build a process with rituals that cause employees to interact and express who they are, the best ways to work with them and the best ways they like to work. If some parts of your process does not work for your new hires, be prepared to let it go.
Effective communication is critical
Without effective and open communication the remote team will fall apart. Everyone should be able to communicate either in writing or video chat asynchronously, or synchronously in direct meetings. This should also be a key element in hiring the best candidates. There is a structure and norms that will characterize the tools everyone uses:
Establish synchronous communication tools
(Zoom, G Suite Essentials, Microsoft Teams)
Software tools you will use for collaboration (Google Docs, Microsoft 365 Suite, design and development software, virtual whiteboards, etc.)
Determine common calendaring, "office hours," average response times, etc.
Establish communication norms regarding which team members to notify, thereby not leaving out copywriters when product launch details are altered.
Implementing communication standards significantly improves the company's culture. It assists team members in being respectful of other people's time while opening up opportunities to seek help and build camaraderie
Keep teams small
Small teams promote greater effectiveness. Big groups allow team members to purposely or accidentally hide. Smaller groups require everyone's participation in order to be effective. Most importantly, managers must focus on each member to make sure that they learn and have clarity on pertinent issues. Within that context, managers develop great personal relationships with their team members which boosts the motivation of remote team members. Happy employees persevere when times get rough, stay loyal when the other grass looks greener and embrace the overall culture instead of trying to skate around it.
Make time for fun
Remember remote companies don't have two hour company lunches, special recognition parties or happy hours. Nothing defines the most enjoyable aspects of the company culture like the special events. So before you get out the world's smallest violin, it might be time to engage your digital creativity to create those "happy touch points."
Schedule casual team calls once or twice a week discussing things outside of work. Everyone adds something about their viewpoint about their "I RL – in real life, experiences."
Keep these types of events very chill by having company-sponsored pizza with beer or wine delivered.
Some remote teams have found ways to play board games while partying on Zoom or other platforms.
The final and most important practice is to make sure people are taking enough time off. This encourages loyalty and prevents burnout. Happy employees is the new elixir for conscientious quality work.
Encourage synchronous communication
Remote team meetings can be weekly, monthly or even short daily chats. The work culture and productivity scheduling determine what works best. However, standard meeting best practices promote team member engagement and fulfillment. Sharing agendas ahead of time and managers taking notes, creating action items and follow-ups keep each meeting valuable for all involved. A team member may feel left out until they get the manager' s action items and follow-ups that show their specific input actually made a difference. Your synchronous time is very important, and you must use it wisely to prevent wasting time that could be used for individual work.
Check-in with people on both professional and personal fronts
Managers must make conscious efforts to keep members from going silently unnoticed in the background. Checking in with team members on both professional and personal friends is the vital preventative medicine. A racecar driver doesn't just insist upon a gleaming spotless engine as a matter of pride. A drop of fuel or oil is immediately noticed so that disaster can be avoided.
Knowing how a team member feels about way you do things, what would make it better, how is it not fun working in the company, and simply what can be done to make their life easier? The time and effort it takes to cultivate a happy team member, and sent to a bargain versus hiring again.
Reward, recognize and relieve people
Rewarding team members for exemplary work literally builds a great remote team culture. It not only sets an example for others to follow, the recognition directly addresses the values that frame the team culture. It makes the journey very simple by rewarding people based on how they adhere to the processes/values and deliver results in a remote setup, following the company's values. Reward and recognition should be expected.
On the other end, those who do not, despite all the levers of help that are offered, must be shed from the organization. Relieving team members of their responsibilities must stay consistent and free of shame for not fitting in the company's corporate culture. You never know if that person's work pattern may fit perfectly in the future.